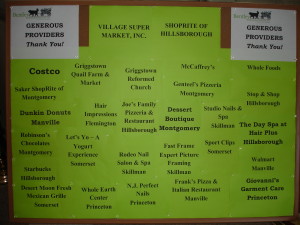 On July 27, 2013, we distributed provisions of healthy groceries, farm fresh produce, toiletries, bakery goods, gift certificates and gift cards to numerous working families in need. The event was held at Griggstown Reformed Church where families from Somerset, Hunterdon, Middlesex and Mercer counties came for assistance.  By providing these crucial staples, these working families in need that do not qualify for assistance save money which enables them to afford to pay their monthly bills in this unstable economy.

Bentley Community Services, Inc. is a unique and innovative organization dedicated to providing support to working families in need that do not qualify for assistance by supplying groceries, basic needs, household goods, clothing, adult educational classes and resources.
We graciously thank our generous providers who provided for our successful event: Village Super Markets – ShopRite of Hillsborough, Costco, McCaffrey's, Whole Foods Market, Saker ShopRite, Inc., Stop & Shop of Hillsborough, Griggstown Farm, Norz Hill Farm, Thomas Sweet Cafe, Dessert Boutique, Whole Earth Center, Walmart, The Day Spa at Hair Plus, Giovanni's Garment Care, Genteel's Pizzeria, Hair Impressions, Studio Nails & Spa, Robinson's Chocolates, N.J. Perfect Nails, Frank's Pizza & Italian Restaurant, Fast Frame Framing, Rodeo Nail Salon & Spa, Sport Clips, Desert Moon Fresh Mexican Grille, Let's Yo, Starbucks and Joe's Pizzeria & Restaurant. Our special thank you to all volunteers and Griggstown Reformed Church. Please contact 908-227-0684 for more information and visit our website at www.bentleycommunityservices.org.