Participant families come to the BCS warehouse distribution facility at 4064 Route One North, Monmouth Junction, NJ 08852 to shop weekly and pick up food provisions, basic needs products and other essential items that have been determined surplus and is generously donated by local manufacturers, wholesalers, retailers, farms, dairies, bakeries and restaurants.  With the money participants save on these crucial staples, BCS families are able to pursue goals that move them away from the bankruptcies, evictions, foreclosures that threaten them and on to financial stability. Participant families have the freedom to shop weekly, choose provisions and make decisions based on their own individual family's needs.  They are not just given an emergency box once per month. or two bags of non-perishable items.  BCS has mostly fresh, perishable provisions.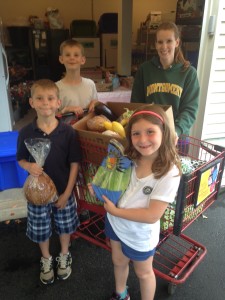 A Bentley Participant Family
The BCS Model of Self-Help
"The Dignity of the Exchange" – People in need by and large would prefer to accept help on the condition that they in return give back in some form.  For many needy families, the shame associated with needing help, the shame of lining up for food and an "emergency box" is profound. It is these feelings of degradation that make many families choose not to avail to social services.  The financial difficulties of any given family may be due to a wide range of factors, many of them beyond their control.  Helping them to identify factors that they do have control of, and enhancing those to overcome the other factors, is a service few agencies provide.  Bentley Community Services is one that will.
BCS believes that true charity is given in a way that allows the recipient to participate in improving his or her circumstances, if at all possible.  Each family enrolled at BCS is expected to provide a few hours of service on a rotation basis at the BCS warehouse.  Their work stocking shelves, repackaging food, sorting and cleaning, etc. makes it possible for BCS to keep costs to a minimum.
BENTLEY COMMUNITY SERVICES GUIDELINES AND REMINDERS
A family in need may be referred to the BCS program by a current or past participant in good standing, or someone we know and trust. The referring person is vouching for the character and validity of the family's situation. We also accept referrals by our community leaders, houses of worship, from other agencies, businesses and corporations and residents in our communities.

SIGN A GOAL STATEMENT
Each family has a signed participation form and goal statement on file.  A representative of each family completes a Participation Update Form once a year to specify goals accomplished.
COMMIT TO A SHOPPING DAY
Participants choose a shopping day and commit to coming on that day. Families must come at least approximately 75% of the time (or 3 out of 4 weeks a month).  If you don't attend for 30 days and have not notified us you will be removed from the program.We distribute items based on the number of families that will come on an open day. If you do not come consistently, product that could go to families may go to waste. Hours of shopping are usually on Tuesday, Wednesday and Thursday, 2:00 with last shoppers at 6:30pm.  Please check weekly Sunday email for any changes.

PAY MONTHLY SERVICE FEE 

Each family pays a nominal monthly service fee of $50.00 per month. Service fees are due by the 15th of each month and will be late if not received on or before the last day of the month.  This fee pays not for product, but a small portion of the overhead costs such as gas, utilities, maintenance and rent. You can bring your payment when you come to shop and place in a marked container or you may mail it to Bentley Community Services, Inc.  PO Box 1093, Belle Mead, NJ 08502.
Late notices are issued if the service fee is not received. After two late notices the fee must be paid or participation will not be allowed.  Contact us if there are special circumstances regarding a late payment.

WRITE THANK YOU NOTES
A grateful heart is a critical part of our program. You convey your appreciation to our wonderful generous providers by writing several thank you notes a month.  They are always thrilled to hear from you about how they affect your lives! They truly feel blessed and are so touched by your thank you notes, cards and letters of gratitude and your personal stories.

LEAVING THE PROGRAM?
While we are sad to see you go, we look forward to families being able to leave our program because the Lord blesses them and goals are met.  If you no longer need this program, please inform us in writing or by email.  Let us know when and why you are leaving.  When we have this written information we will remove you in good standing, eligible to return.

DISTRIBUTION LIMITS   Special Note: The items in the BCS warehouse are for participant families only.  Please take what your family can use, not neighbors, extended family, etc. This includes everything.  (Keep in mind that other families can be referred to our program should they be in need.) If there is an over abundance of something, please ask if you would like to receive extra!  The important thing here is to ask. We know how much we have of something so please check with us and ask!
What you can do to distribute the blessing equally to all participants:
        *Read limit signs. 
         *With unlimited items, take only what your own family can use for the week.         Remember, each week we do this all over again!  Choose items thoughtfully.
·        *Certain produce may sometimes  be in limited supply, so please take enough for one meal of each produce for the week.
·        * Ask when you see an abundance of something; it's likely that you may take some to share with others. Ask first, just don't take!
If we feel that someone is intentionally trying to break the guidelines we will bring it to their attention. After three notifications, your participation rights will be terminated.

VOLUNTEER HOURS   Bentley Community Services is a sustainable program like our mentor organization, Birch Community Services.  Your giving back to the organization fosters a sense of responsibility and accountability as we help and serve one another.  This is a mandatory part of our program and business model.  You may sign up as a volunteer to help in the food pantry on Saturdays at 10:15AM, Tuesdays at 10:15AM, Wednesdays at 10:15AM; as a volunteer at our food drives, as a volunteer at one of our generous provider farms when help is needed and at other volunteer opportunities that will arise.  We are a caring and compassionate community where we share and offer help and assistance to one another.
REFERRALS   The backbone of the Birch/Bentley business model are referring new families into this program.  Please fill out and submit the referral form when referring a family.  Applications are reviewed on an individual case by case basis.  Not all families applying to Bentley are accepted.

Accountability – All BCS families state financial goals to work towards while participating in the program and all are required to attend a financial seminar that assists in learning how to manage their finances and control spending.  We will provide a financial seminar to participants at no cost.
Adult Education Program – All BCS families have access to free workshops and courses that will be offered on scheduled dates throughout the year. We also will refer our participating families to other organizations and resources in our communities that may help them, as well. Workshops will be instructed by gracious volunteers/professionals giving of their talents and gifts to make a difference, offering their knowledge and expertise in their fields on subjects that have been requested by BCS participants themselves to help facilitate their return to financial self-sufficiency and family stability. They will include workshops on financial literacy/money management, work, life and time managements, preparing wholesome and nutritious meals on a budget; exercise/staying fit and many other types of interesting and fun classes.
Community Gardens – Learning how to grow – gardens teach families to save money by "growing their own" plus fresh produce is contributed to our own program.  Maintained by volunteers and materials donated by generous providers.