Five members of the Peer Leadership Program at South Brunswick High School offered their helping hands at Bentley Community Services as part of the community services component of the program. They certainly did excellent work, breaking down food provisions that came in all morning into the afternoon hours. They unloaded the trucks, handling a wide range of fresh, healthy and nutritious fruits and vegetables, salads, non-perishable items, frozen meats, poultry and entrees, prepped fresh flowers, re-stocked the shelves in the warehouse facility, stocked fresh breads and baked goods, and unpacked ice creams and desserts. We are thankful to them and greatly appreciate their work ethic, helping hands, dedication and enthusiasm.  What a delight to work alongside them".
The Peer Leadership program trains selected seniors to work with small groups of freshmen to aid their transition to high school and to develop a sense of community among the diverse student body. Only 68 senior leaders are chosen each year from a field of over 300 applicants.  Throughout the year, Peer Leaders, working in male/female co-leader pairs, plan and facilitate groups of ninth graders in two formats:  small, informal discussions and Project Adventure activities.  The purposes of the discussion group sessions are to help the freshmen adjust to the new environment of the high school and to focus on typical adolescent issues.  In the Project Adventure sessions, they lead their freshmen through a sequence of group problems and group and individual physical challenges, on both low elements and on a high ropes course.  Through Project Adventure, the seniors help freshmen to develop their group problem-solving skills and increase their sense of personal confidence, as well as encouraging mutual support within the group.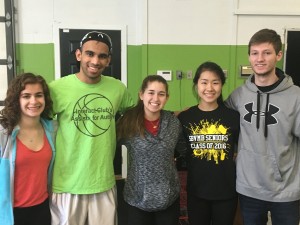 Pictured in photo from left: Melissa Maurer, Sreyas Ravi, Janine Lagarenne, Nabina Park and Matt Kiely.